Workshops:
Link to us! http://ow.ly/4tB94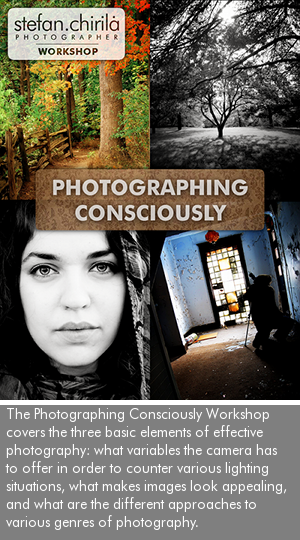 Click here to Download the Unit Plan
Read what others think about the workshop: Post1 .

For private one-on-one tutoring sessions, contact me using the info below:

Next instance starts: To be announced

Sessions: To be announced

Duration: To be announced

Where: To be announced

Investment: To be announced


Contact:
Stefan Chirila | 519.580.0699 | stefan@stefanchirila.com

*it is recommended, yet not needed, that you bring a notebook, your camera and a laptop computer*
Click here to Download the Unit Plan
This is a post processing workshop designed to be a one-on-one experience. The learning group will be relatively small (5-7 persons). We will be meeting in a quiet environment and explore the elements of digital photography post processing. Questions and discussions are highly encouraged.

There will be three sessions in total. Session 1 looks at post processing in terms of its purpose and the different philosophical approaches to it. Session 2 introduces RAW files (the digital negatives) and the ways they can be processed (Software: RAWTherapee). Session 3 looks at pixel based images and how programs designed for them differ (Software: The Gimp). There will be tutorials and techniques mentioned along with the introduction to the software.


Next instance starts: to be announced


Sessions: to be announced


Where: to be announced


Investment: to be announced



Contact:
Stefan Chirila | 519.580.0699 | stefan@stefanchirila.com

*it is mandatory that you bring a laptop computer running either Linux, Mac OS or Microsoft Windows, in order to be able to follow the lessons*